The New Hampshire Department of Education sent praises to our WMRHS Culinary/Hospitality students and staff for their outstanding baking skills with real-world application! Check out the video NHDOE shared with us of our students and staff hard at work baking holiday pies!:
https://www.youtube.com/watch?v=7HyEmYjaux0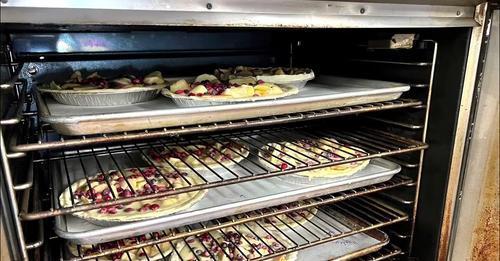 The White Mountains Regional School District now partners with Tutor.com to provide free 1:1 tutor access for students in grades 6-12. Students can connect to a Tutor by logging into their Chromebook and click on the Google Apps button in the upper right hand corner of their email. Scroll down and slect Tutor.com
https://www.youtube.com/watch?v=JAhBo9491AQ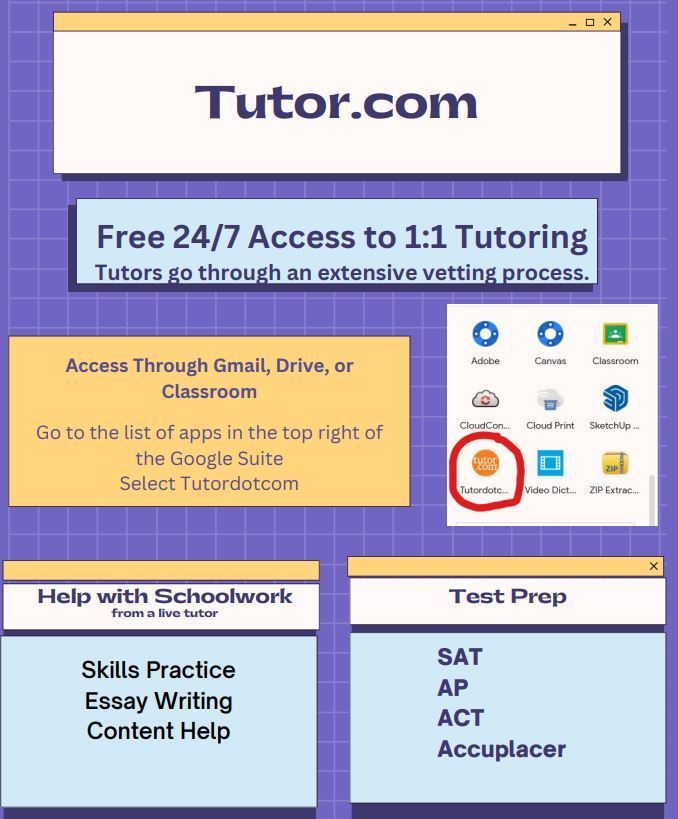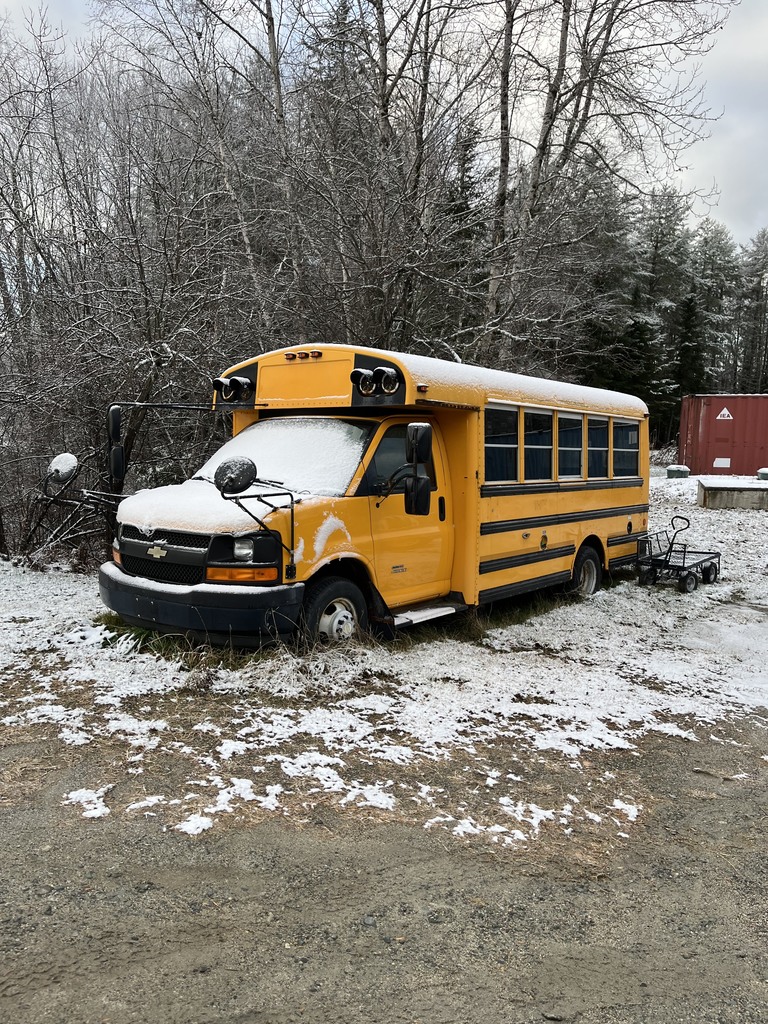 Families of children Pre-K - grade 5 - Peaceful Parenting Skills - of Conscious Discipline - Workshop December 14, 2022 6:00 - 7:15 PM - Sponsored by North Country Educational Services (NCES), The Coos Coalition for Young Children and Families, and the North Country Partnership for SEL Practices. Register by December 12 at ncedservices.org/parent-cd, or email
nces@ncedservices.org
, or call 1-603-466-5437 (M-F 8-4) for registration and information.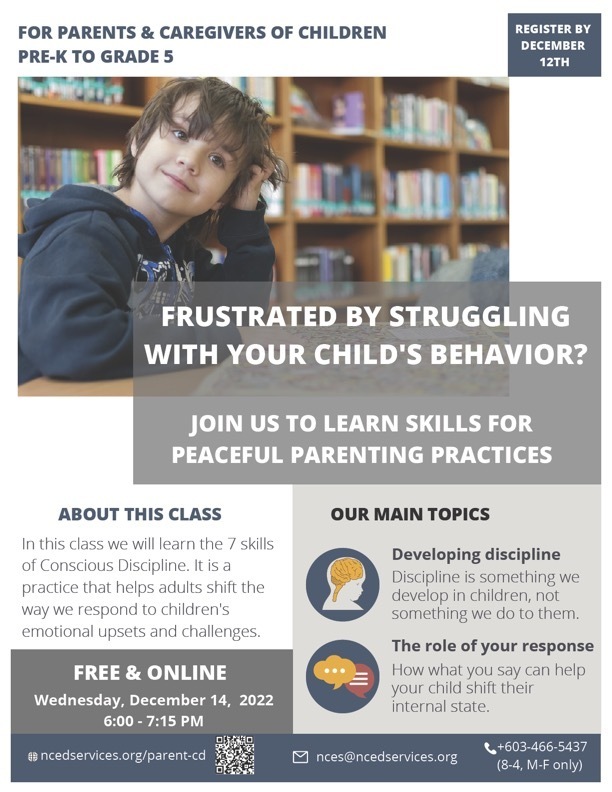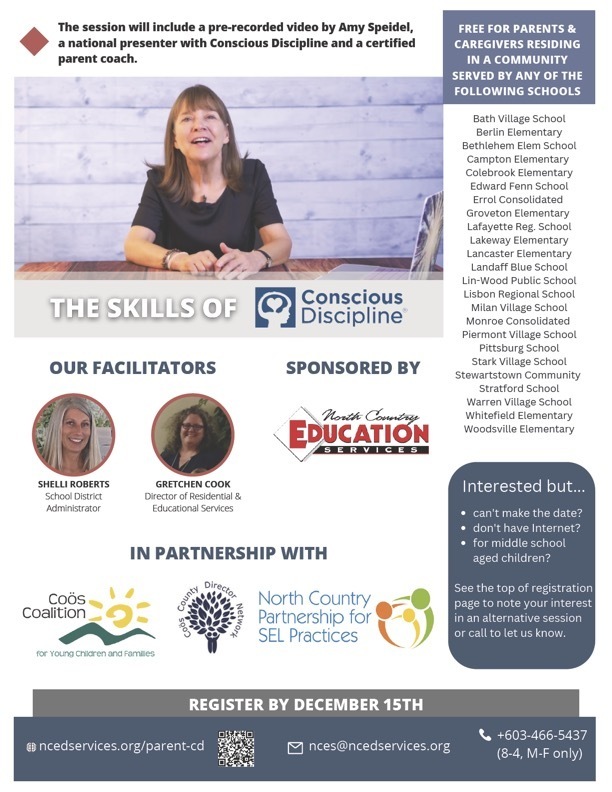 The White Mountains Regional Nordic Ski Team is looking for new members for the upcoming winter season!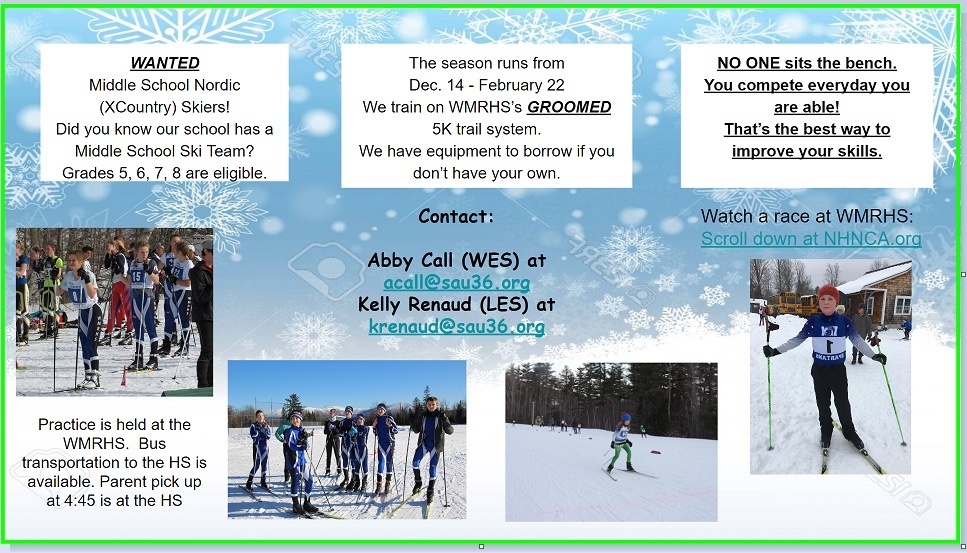 No CTE classes in Littleton on Nov. 9. Students who attend Littleton may report to WMRHS for block 2 class.

On Friday, November 4, 2022, The White Mountains Regional High School JROTC Spartan Battalion, and the Student Council sponsored a assembly for students grades 9-12 to mark Veterans' Day and honor local veterans. Command Sergeant Major Brad Cross of Whitefield spoke to the student body about the importance of Veterans' Day and honoring the service and sacrifice of veterans. The JROTC Color Guard presented the colors, and student Scott Black sang our National Anthem.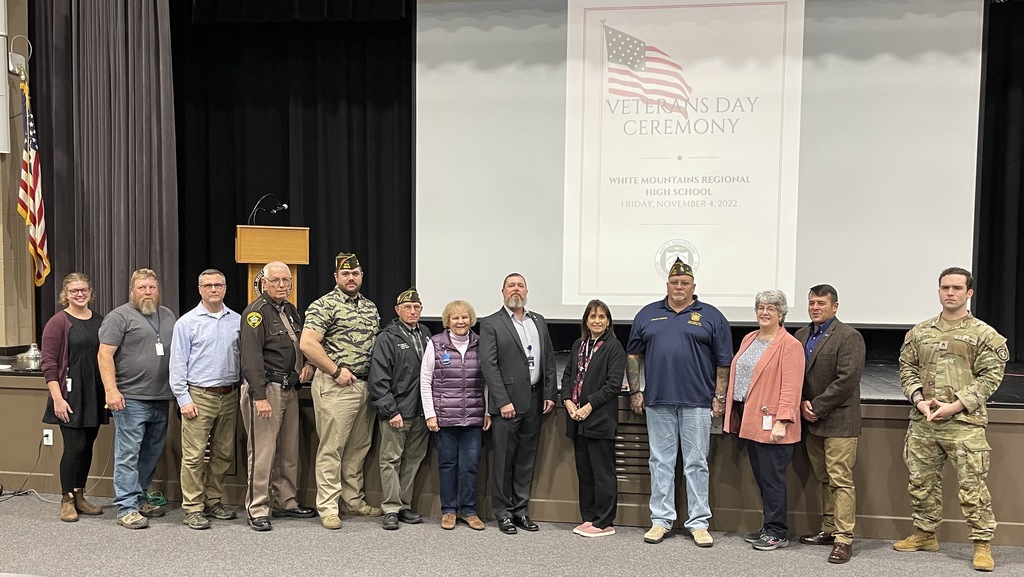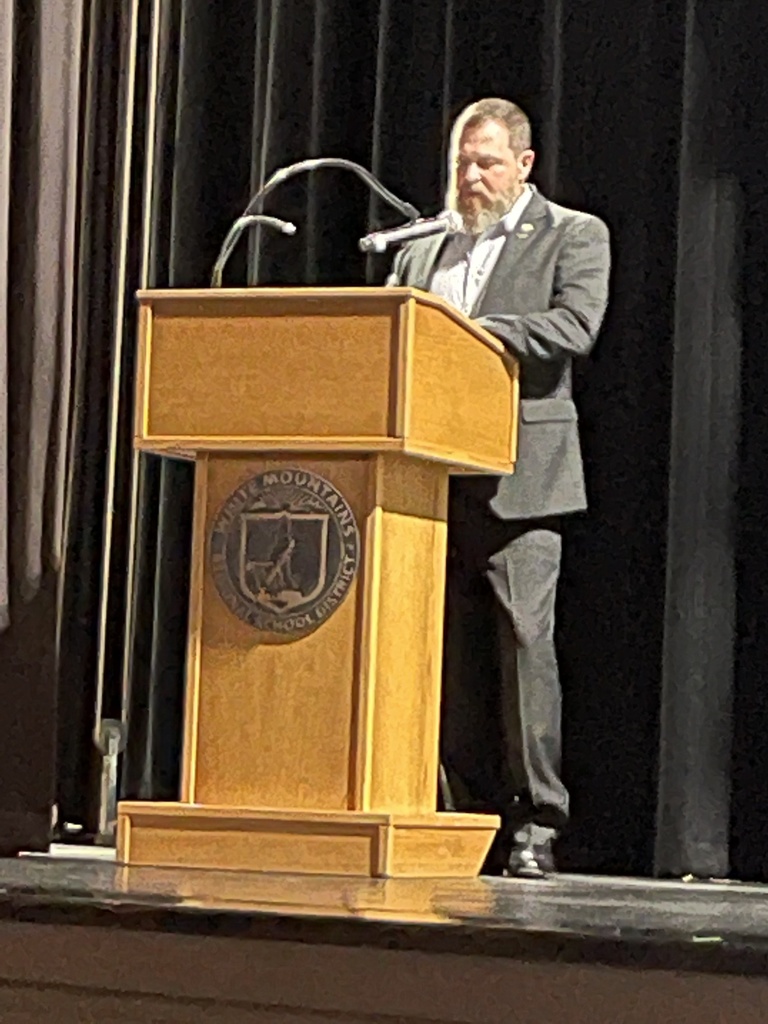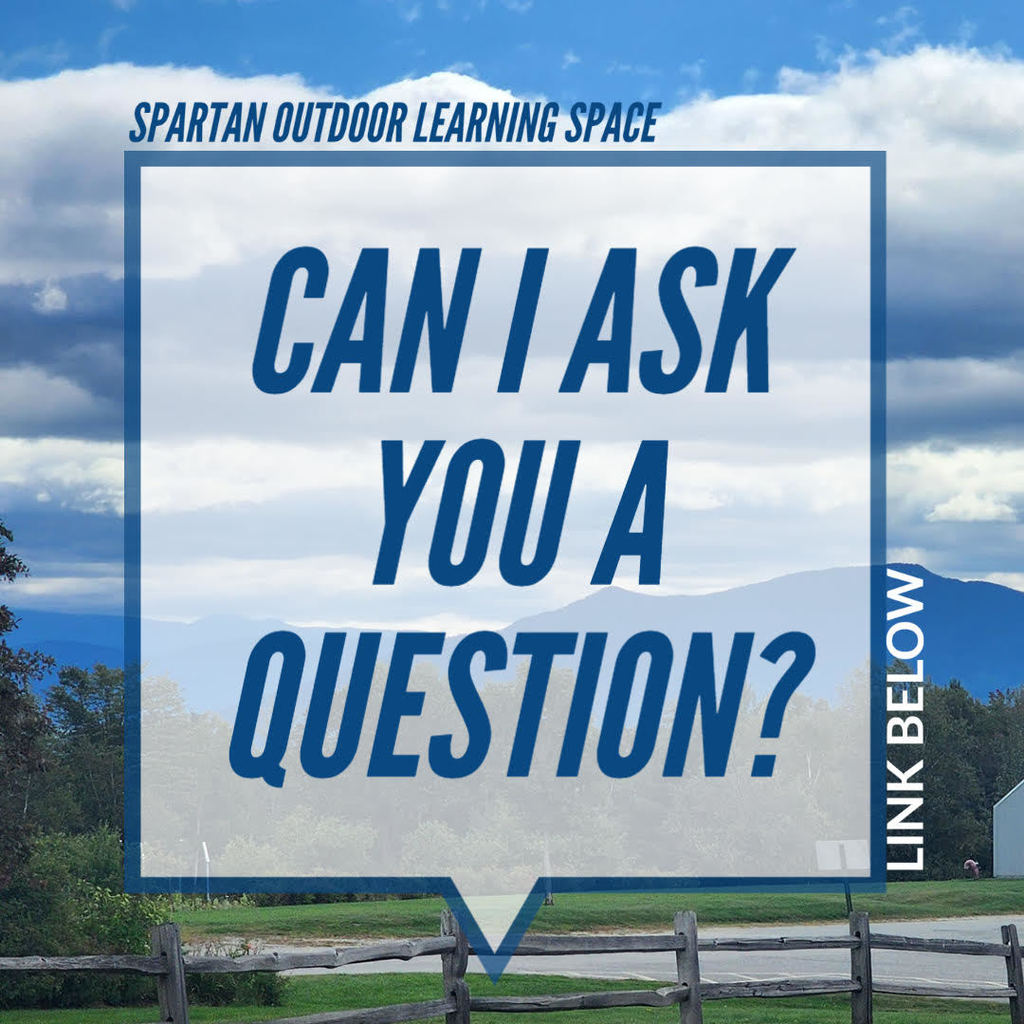 Attached is a copy of the SAU 36 bus route overview. This update has 100% changed every bus route within the SAU 36 school district. The routes are longer in duration and very full this school year due to the school bus driver shortage that the North Country as well as the entire Nation are enduring. We encourage all the families to reach out as soon as possible if their students will be needing transportation this school year. As we get started I ask that you be patient with us at W.W. Berry's Transportation as we along with everyone else make the adjustment to this change. Families can reach out to Madison or Tina at WW Berry with any questions regarding the new routes.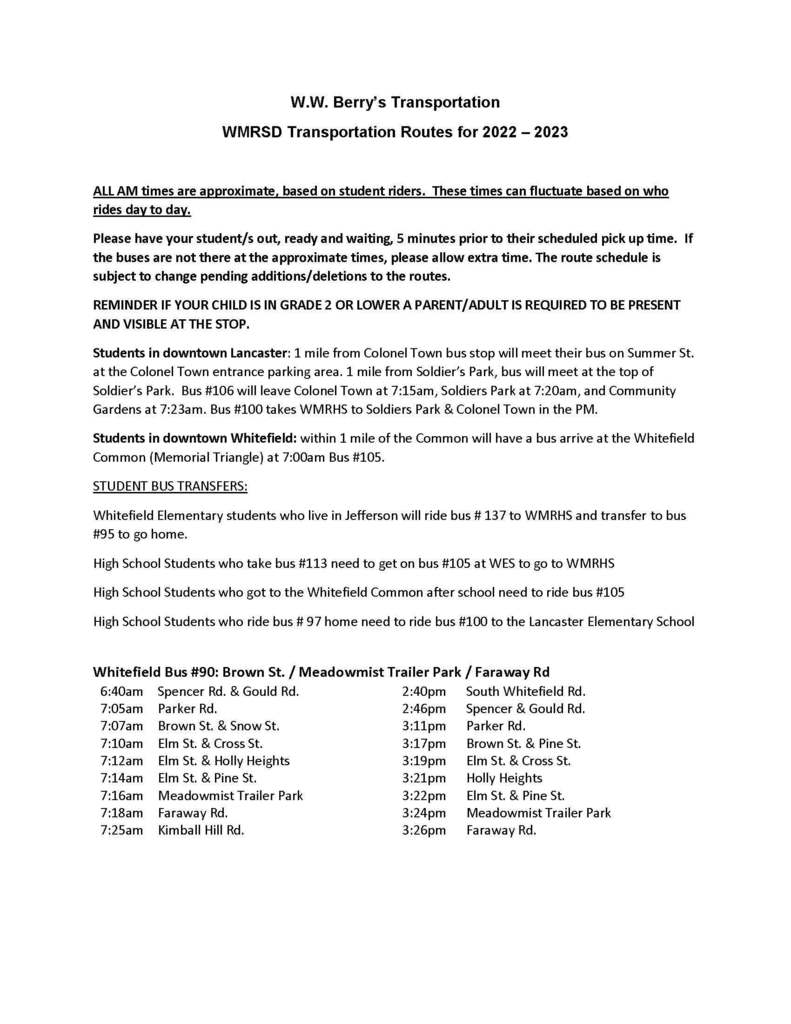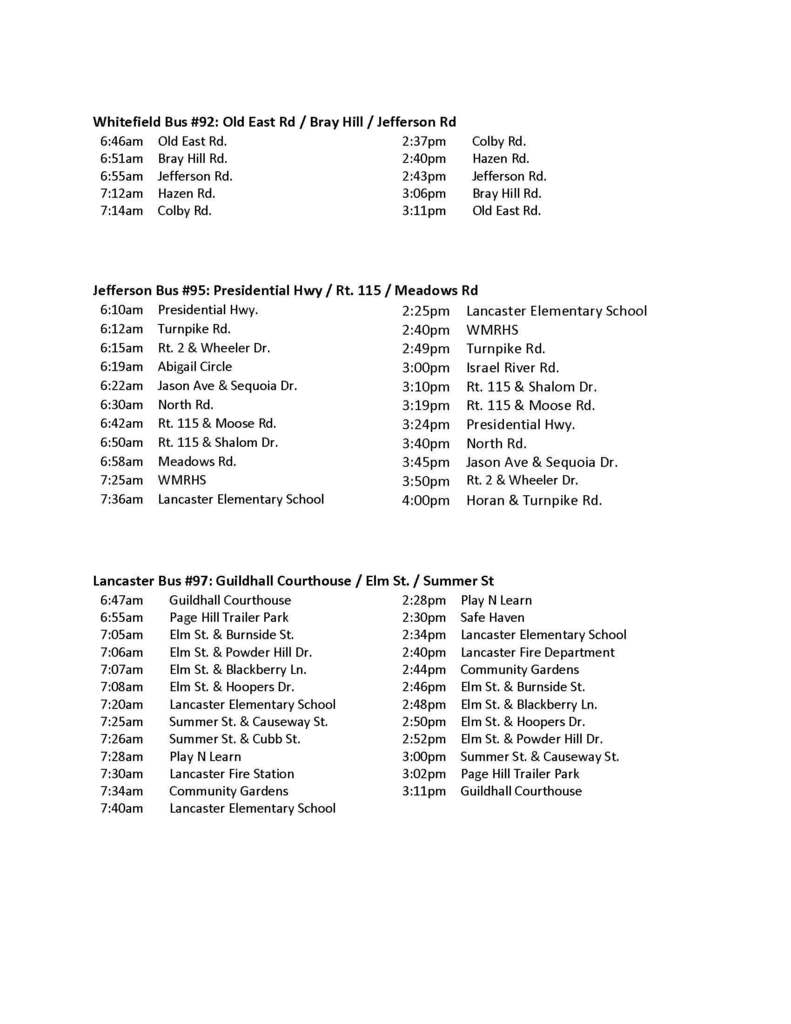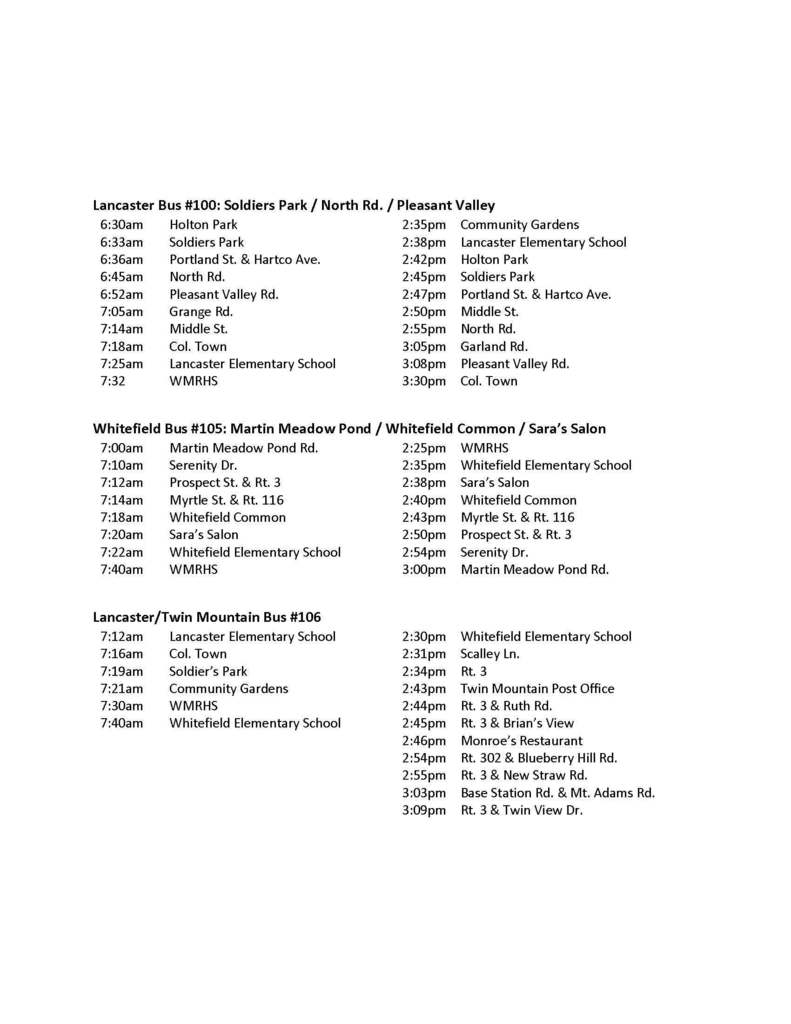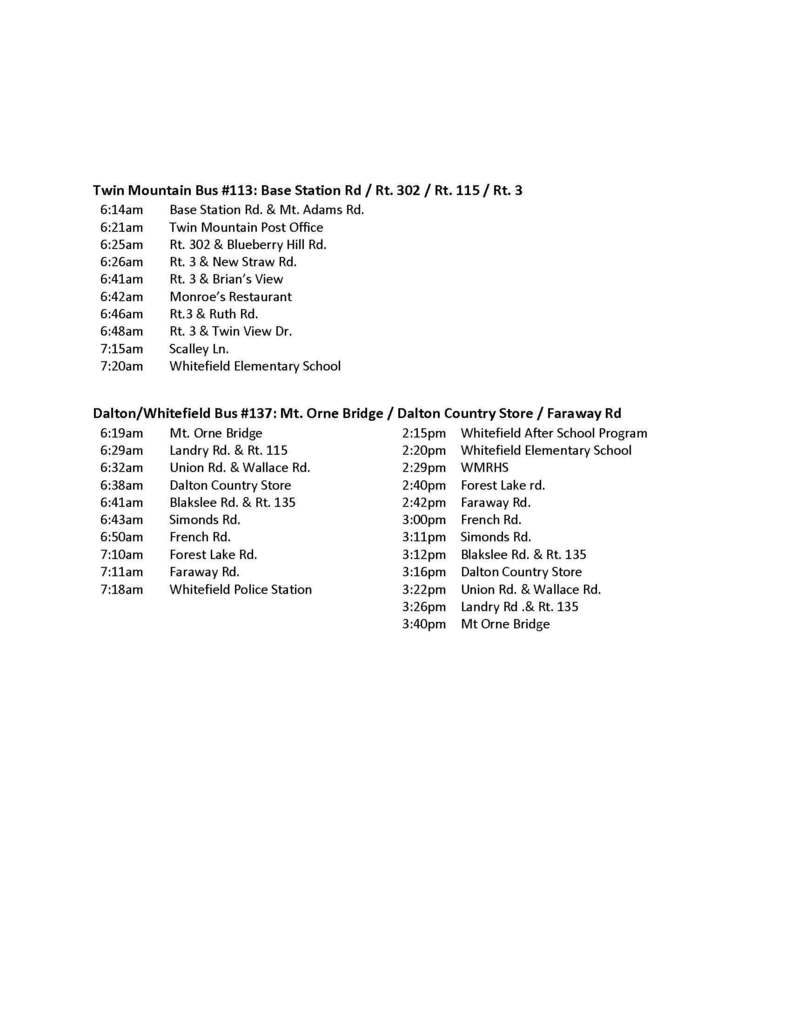 Progressive Styles Concert tonight (6/6/22)!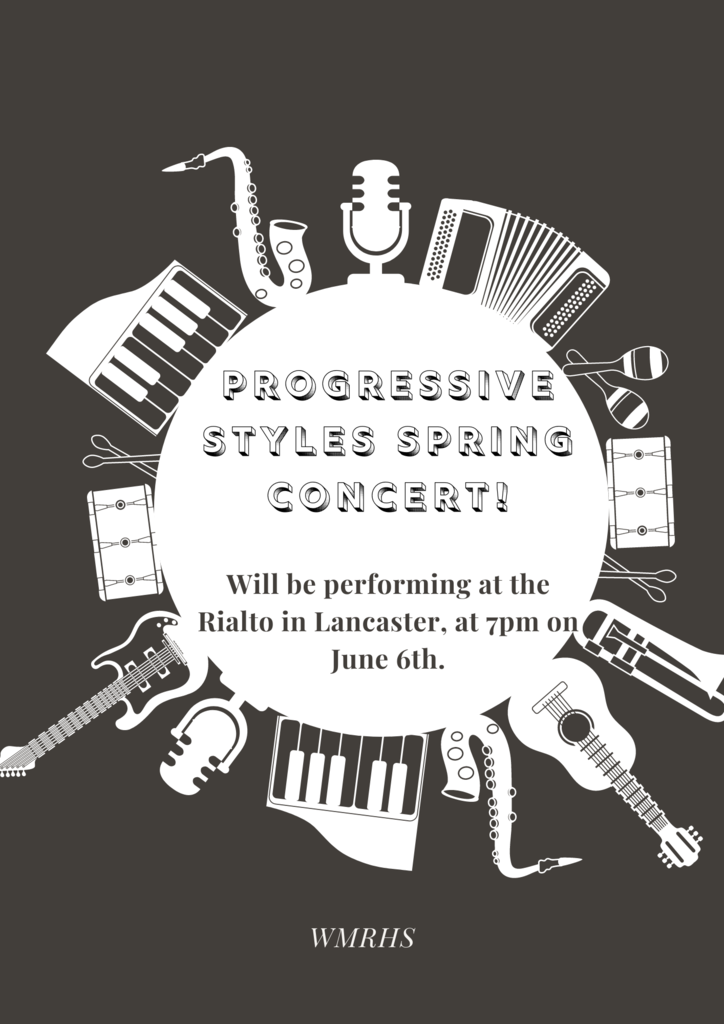 A message from WW Berry Good Afternoon, Please be prepared and aware of possible delays in this afternoon's student bus drop off times. The weather conditions are causing many road closures which have been changing frequently. We will be rerouting buses, as needed, to deliver your students home as quickly and safely as possible.

WMRSD is hosting a viewing of the movie, ANGST at the Rialto this Wednesday, April 13th @ 6PM.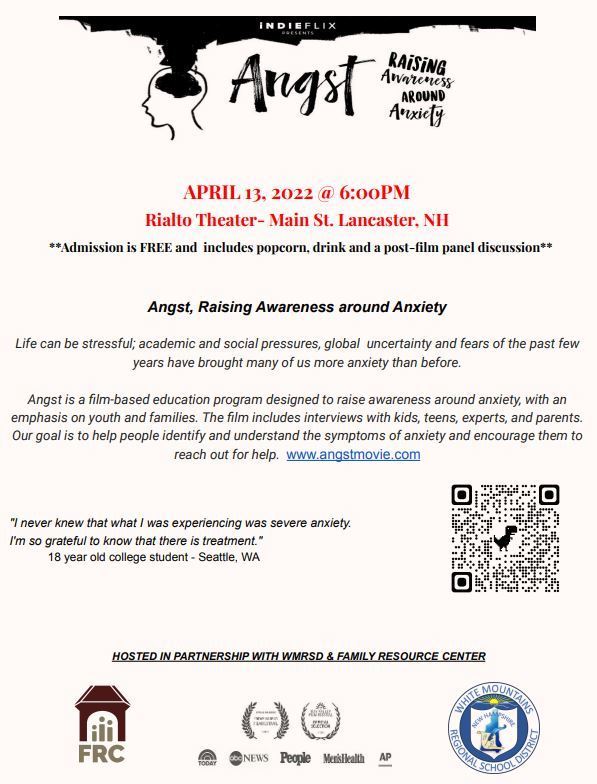 It is that time of year to start making plans for the summer! Summer programming is different this year as we are striving to include students who don't usually attend traditional summer school. This year, our summer learning programs (with the exception of preschool programming) will all be held at WMRHS. Our K-5 Summer Learning Camp program will be held from 8am-1pm on Tuesdays, Wednesdays, and Thursdays for four weeks from July 12 - August 4. Lunch will be provided as well as bus transportation from a central location in each of the five towns. We are looking forward to providing continued learning opportunities for our students in a fun, camp-like atmosphere this summer! Please see the link below for the sign-up form to be completed by April 22nd. Please note: More details about our 6-8 Spartan Summer Session program will be sent out next week, along with information about the Futures Camps. The 6-8 Spartan Summer Session will run the same days and times as the K-5 program. Sign up form:
https://docs.google.com/forms/d/e/1FAIpQLSeOmAkK2cap6l-PbSie_TcexL9EfqYVATQq0iSZYSejkbifAA/viewform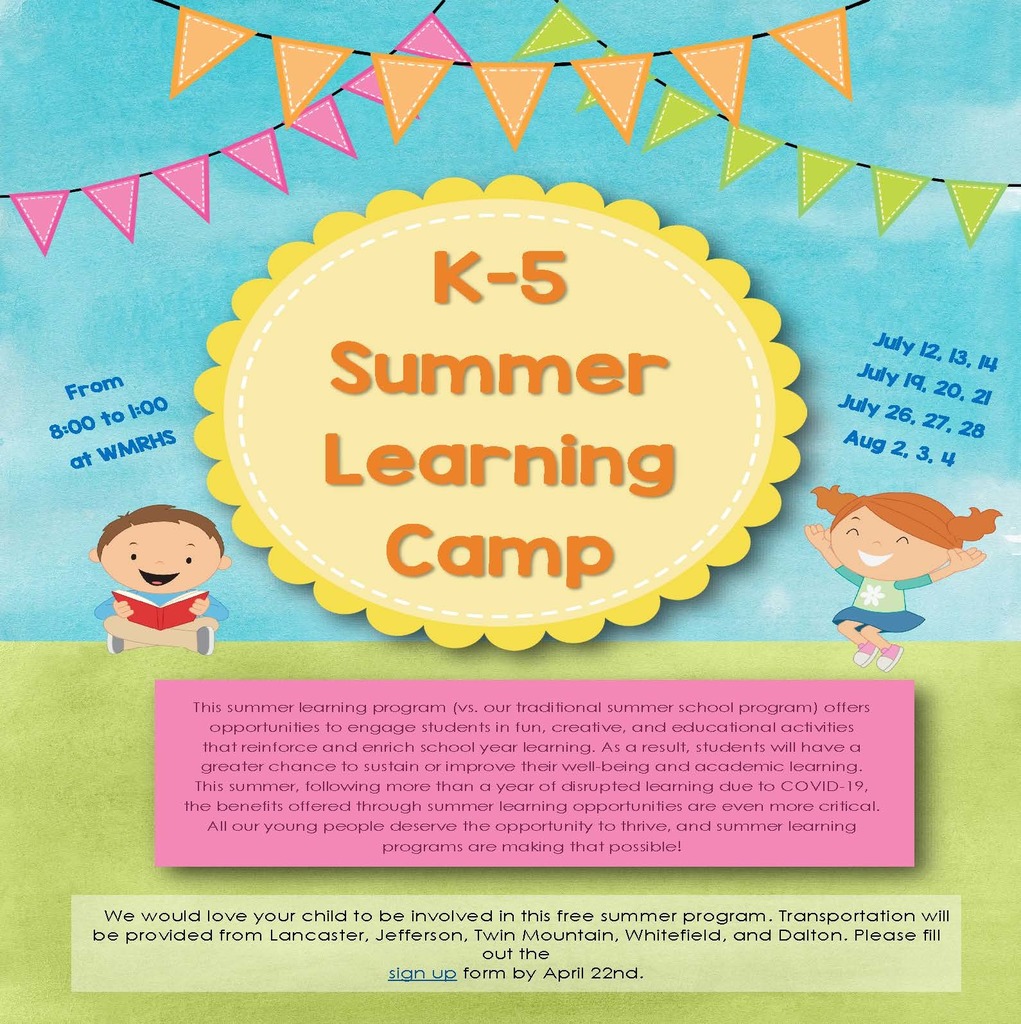 Good Morning White Mountains Regional School District Families and Staff. We will have a 2- hour delay this morning. School will start at 10:00 am.


SAU 36 is in search of two full-time paraprofessionals. Benefits include health insurance, enrollment into New Hampshire Retirement System, life insurance, and long-term disability. Please find the job description attached. Please apply via SchoolSpring. Job Description -
https://5il.co/16y0z
Apply Here -
https://www.schoolspring.com/job.cfm?jid=3442124

Good Afternoon White Mountains Regional School District Families and Staff. Given the weather forecast for tomorrow, we are cancelling school and all after school activities for tomorrow as well.

UPDATED MASK RECOMMENDATIONS EFFECTIVE IMMEDIATELY Good Evening, NH DHHS has updated their face mask recommendations and are no longer recommending face masks for people in indoor public spaces and that includes in schools. Effective immediately, face masks will be optional for our general school population. Please note that masks are required per Federal mandate on any public transportation and that does include school buses. If your child rides a bus, please continue to have them mask while on the bus. Masks are still required for those returning to school after a 5 day isolation or quarantine period. People who are severely immunocompromised should still consider wearing a face mask. Anyone who wants additional protection for themselves or others in their home are encouraged to mask while in school. COVID-19 is still in our community and we will continue to mitigate the risk with adequate ventilation, hygiene measures, cohorting, testing and will continue to isolate positive cases and quarantine those who have had household exposures. If you have any questions about this change in procedure please reach out to your building administrator. I have attached the Technical Advisory from the NH DOE sent to all NH Superintendent's this evening for your information. Best, Marion NH DOE Technical Advisory -
https://5il.co/16605

Covid-19 shots and boosters available at Vaccine Clinic. February 18, 2022 4PM-7PM - Lancaster Town Hall. Free to the Community. See attached .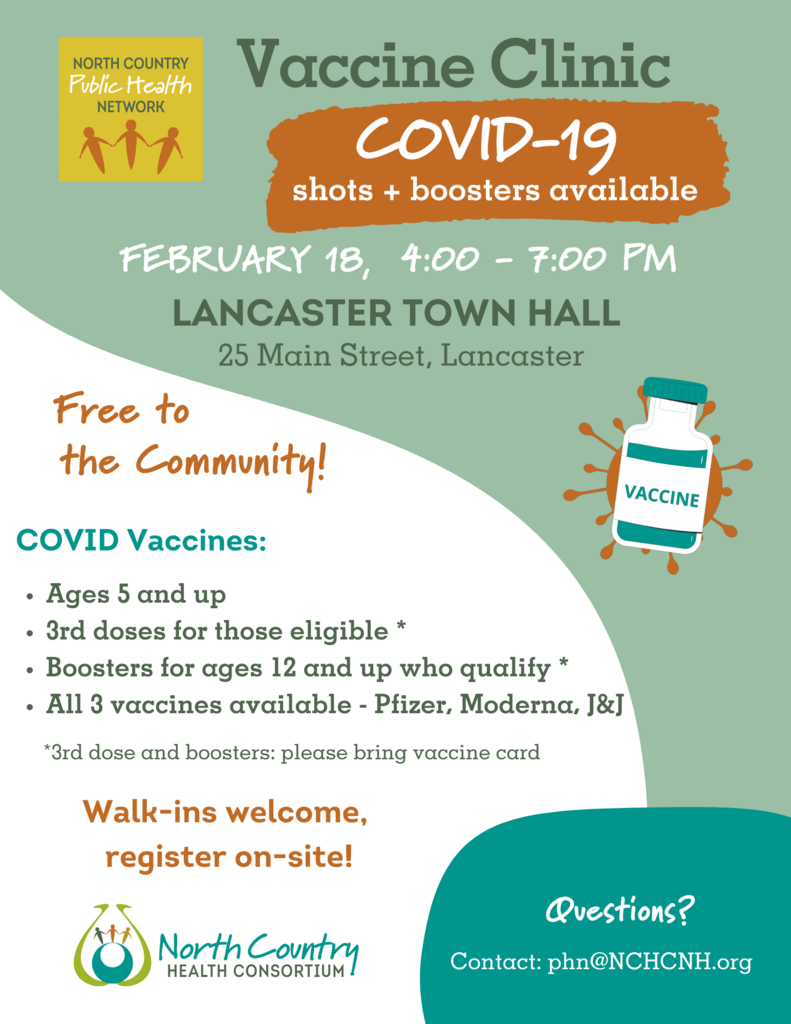 Good Afternoon White Mountains Regional School District Families and Staff. Given the weather forecast for tomorrow, we are cancelling school and all after school activities