Dear WMRSD Staff and Families, The District Leadership Team has been working on crafting an outline for updating our Strategic Plan. We have identified 4 'pillars' to guide our work. They are: 1.Structure and Finance ( Finance and Operations) Making the best use of current and future resources, WMRSD will optimize the District's structures and resources so that it supports the provisions of a quality and equitable education and improved facilities. 2.District Culture and Wellness Foster a culture that promotes engagement, inclusion, safety, health, and success for all students, staff, parents, and community members. 3.Teaching and Learning (Student Engagement/Achievement & Professional Learning) Implement a balanced, innovative curriculum that emphasizes a culture of engaged learning and prepares all students for lifelong success. Foster a culture of learning for all staff that enforces and models lifelong learning through professional development opportunities. 4.Innovation Strategy Provide venues to vet and/or implement future improvement and change through innovative processes. Conviction in the importance of the work Clarity on the vision Capacity to implement the ideas Coalition of broad and diverse stakeholders Culture of innovation and equity As we move forward to implement this plan, we will craft year-long action steps for each pillar, and then action steps for each school. We invite you to provide input and feedback for this process. Our first community/staff meeting will be on December 8, 2021, at 5:30 PM at the WMRHS media center. The initial meeting should take about an hour or an hour and a half. We will have a casual round table discussion format. I will post this on the website and social media as well. Please email me at
manastasia@sau36.org
to RSVP so that we prepare the space appropriately. We look forward to this work ahead! Best, Marion

Free vaccine clinic at WMRHS gym tomorrow!


REMINDER - VOTING TONIGHT 5:30PM WMRHS AUDITORIUM Dear WMRSD Families, Staff, and Community, I have attached a link that explains the information for the use of unanticipated adequacy aid for the November 10, 2021, Special Meeting vote. This presentation was given at the October 14, 2021, Special Budget Hearing. Unfortunately, there were very few community members present to hear the information. We feel that it is important for you to know the board's recommendation for the use of the funds as well as to inform you of the tax impact. The attached slides explain why we had an increase in adequacy aid and the process the school board must follow according to RSA 197:3-a to appropriate the funds or reduce tax rates. Please take a moment to view the slides – Click here. Voting is on November 10, 2021, preceding the regular School Board meeting at 5:30 PM in the WMRHS auditorium. Feel free to contact me if you have any questions. Thank you! Marion Anastasia, WMRSD Superintendent
https://core-docs.s3.amazonaws.com/documents/asset/uploaded_file/1619566/October_14__2021__Special_Budget_Hearing.pdf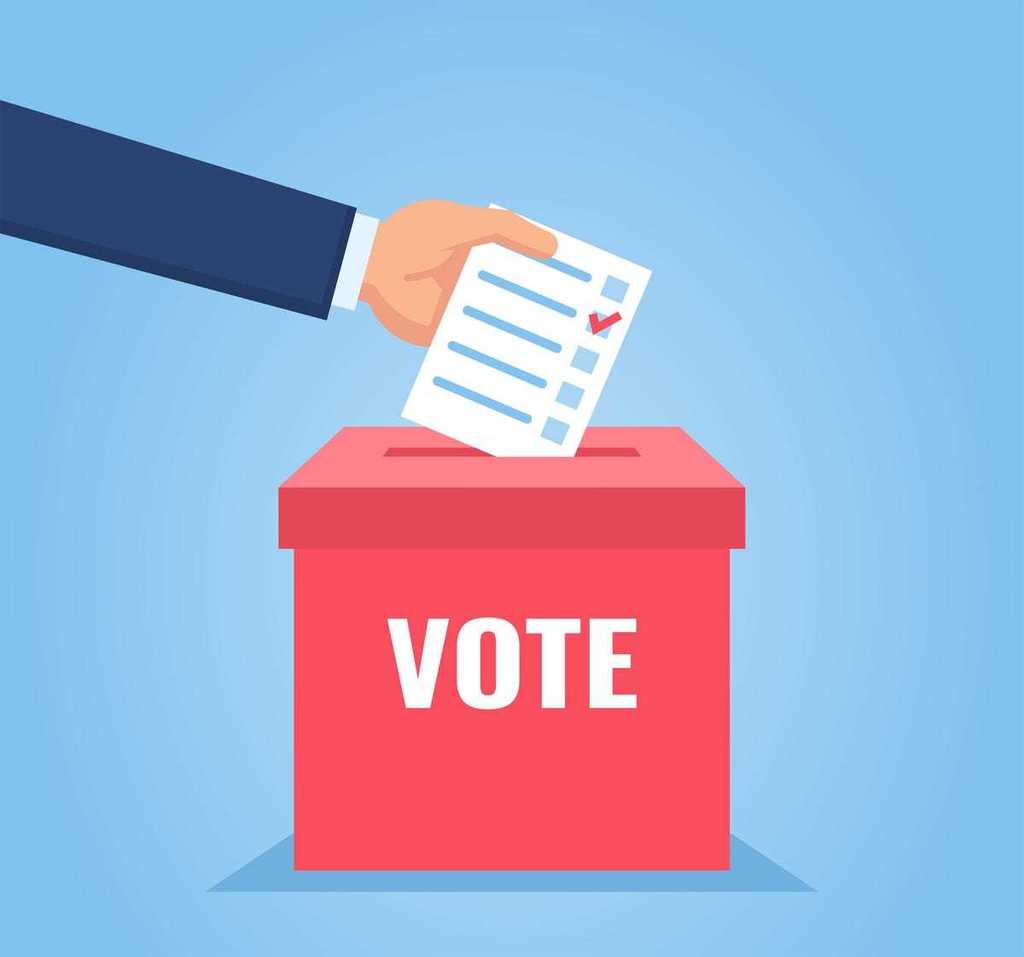 An important update from WW Berry's Transportation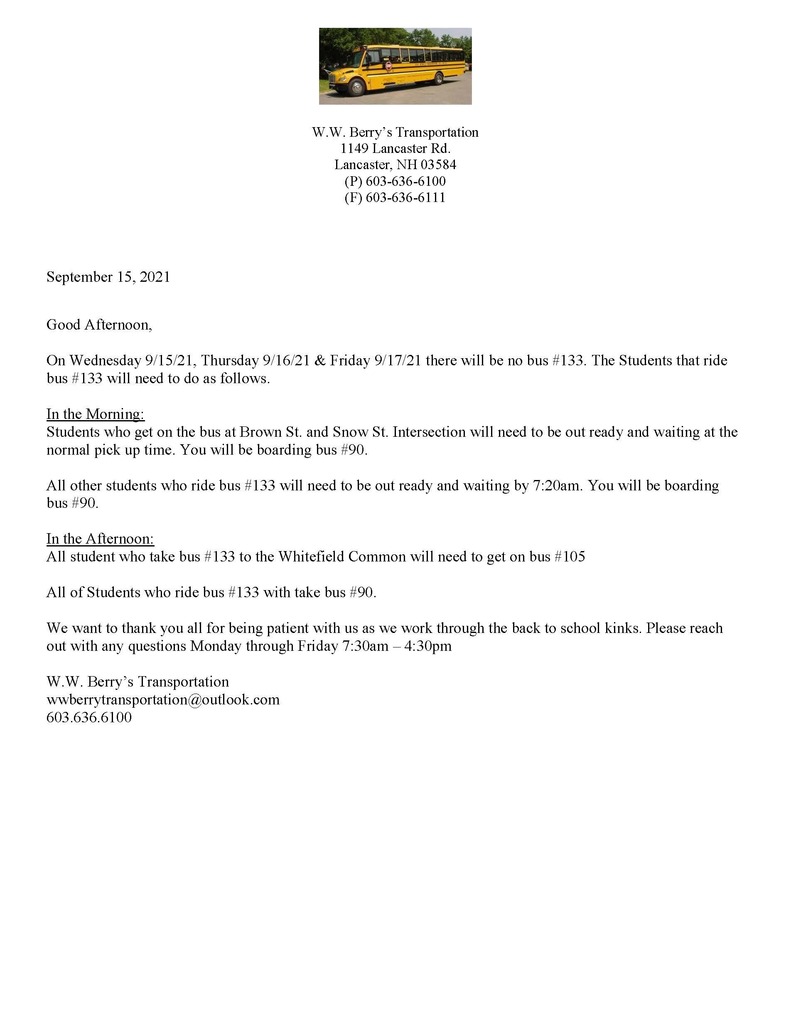 Message from Berry Transportation!

August 20, 2021 Dear WMRSD Families, We are happy to announce that all meals for students in the WMRSD will be free for the 2021-2022 school year. This includes breakfasts and lunches for all grade levels. Thanks to the efforts of our Director of Food Service, Mrs. Mel Stevens, she has applied for the Seamless Summer Grant which goes through the school year. Although all meals are free, we are urging everyone to fill out the free and reduced meals application. Why? The WMRSD receives additional money from the Adequacy Aid formula for every student who qualifies for Free/Reduced lunch. This year, we will receive an additional $1,893.32 for each eligible student. And, we will receive additional funds from the Relief Aid Grant for a percentage of students that are eligible for free/reduced meals. In addition to the additional Adequacy Aid, the WMRSD receives Federal Grant money that aligns with the free/reduced rates of the District. This includes additional teachers, materials, equipment, and supplies for all students. Applying is easy! Use this link
https://family.titank12.com/
to apply, see online menus, and payment options (when applicable). Click on "Apply for Meals Today" Then start typing White Mountains Regional School District- it will auto-fill once you start typing. (There is a sample 'letter to household' that shows you what to expect.) Attached is additional information as well as a paper application, if you prefer. If you need any help, please reach out to Mel Stevens at 837-9031. All information is CONFIDENTIAL. Thank you for your support! Best, Marion Please follow this link for the application
https://5il.co/xk0k
.

August 13, 2021 Dear WMRSD Staff and Families, At last night's Board meeting, the 2021-2022 Return to School Plan was approved with an amendment. I will publish the final plan on the website and will email blast it out to all of you next week. Please note that the plan is fluid and will be reviewed at regular school board meetings during our COVID-19 updates section. The amendment to the plan included the Mask Requirements. Face mask use: 1. Face masks are not required when staff and students are outside grades Pre-k through 12 regardless of the transmission rates. 2. Face masks are required for all students and staff in grades Pre-K through 8 when in the buildings. 3. Face masks are required per Federal Law for Pre-k through grade 12 on the busses. 4. This is our decision-making matrix for mask wearing in the High School: Green Optional Masking Minimal transmission is defined as fewer than 50 cases per 100,000 population. OR 4 or fewer cases is considered minimal transmission when scaling down to the population of those towns composing the WMRSD: population of 8,468. Yellow Recommended Masking Moderate transmission as 50 - 100 cases per 100,000 population. OR 5-8 cases is considered moderate transmission when scaling down to the population of those towns composing the WMRSD: population of 8,468 Red *Required Masking Substantial transmission is greater than 100 cases per 100,000 population. OR 9 or more cases is considered substantial transmission when scaling down to the population of those towns composing the WMRSD: population of 8,468 *The Covid Coordinator and the District Leaders will monitor the status of Substantial Transmission (RED) immediately, and determine when it is appropriate to move into a less restrictive stage. We will be using the WMRSD Towns population to determine transmission levels, not the County population. We will be posting the transmission rate daily on our website and on social media. We will also email blast families/staff if the transmission rate changes so that the High School can be prepared to mask if necessary. Again, the final plan in its entirety will be sent to you next week. Enjoy the weekend! Best, Marion Please click this link for letter with color matrix-
https://5il.co/x4a7

Dear WMRSD Families and Staff, On Thursday, August 12, 2021, the White Mountains Regional School District School Board will be extending the policy comment period before adoption regarding policy JBAB: Transgender and Gender Non-Conforming Students. I have attached the policy and procedures for your convenience. They are also posted on the District website. In addition, the District Leadership Team and I will be presenting our recommendations to the Board for the Return to School Plan given the recent work of the Reopening Task Force. There will be a separate public comment time for this topic as well! We meet at 6:30 PM in the Media Center at the High School! Best, Marion Link to Attachment -
https://5il.co/ws0w

Good Morning WMRSD Staff and Families, July has passed us by on record speed! I sincerely hope you are taking some time to enjoy the beautiful New England summer! Now that August is here, I am sure you are all wondering about the reopening plan for 2021-2022. The original committee, of over 70 participants, is reconvening tomorrow to review our last return to school plan and then will begin crafting the new plan. Our aim is to have recommendations to the School Board at its August 12th School Board Meeting. We will have a separate public comment time scheduled in the agenda for input and feedback. The science is changing daily, and the plan will allow for fluidity to accommodate any new CDC/DHHS/Local Conditions or recommendations. What we do know is that we will be starting school with all students returning to school, in person. We will not be offering a remote option. The obvious questions regarding masks, social distancing, cleaning, air quality, etc will be addressed in the plan. However, the Federal Government has mandated mask-wearing on all buses, so you can expect to have your child be prepared for that requirement. Stay tuned, I will certainly keep everyone updated as we move forward! If you have any questions, please feel free to reach out! Best, Marion

Good Evening All - Please review the Addendum to the April 19, 2021 Return to School Plan - Summer 2021: Adopted by the WMRSD School Board 6/24/21 by visiting the below link!
https://5il.co/uog4

Dear Staff, Families, and Community Members, The New Hampshire Department of Education wants to hear from staff, families, and community members in our school community! The Surveys will be available from June 1 - June 30. These surveys will help us gather valuable feedback that can then be reviewed in Panorama Education's online reporting platform. We will share the survey data once it is compiled by Panorama Education. The survey takes about 10 minutes; and if you have a child with an IEP, it will take an additional 5 minutes. The family surveys are also how schools will gather their Special Education Family data to support the NHDOE's reporting for Indicator 8. The first half of the survey is for all families, and the second half is for parents and guardians of students with IEPs. This year, all schools are eligible to participate. Survey Links: The distribution of survey links has been greatly simplified from previous years. You may choose your school from a dropdown menu: Families in K-12, Preschool, and Private Schools: bit.ly/nhdoefamily Staff in Public and Private Schools: bit.ly/nhdoestaff Community Members: bit.ly/nhdoecommunity *Please note that "Community Members" are those who do not have students enrolled in New Hampshire public schools. Those who do should complete the family surveys instead.

Good morning SAU #36 Staff and Parents, Dr. Ben Chan from NH DHHS has announced some new guidance for schools and it reads as follows: With levels of community transmission decreasing, we recommend that schools can remove masks in outdoor settings (regardless of a person's vaccination status), including at recess and during non-contact sports. -NH DPHS still recommends physical distancing between children/students to the extent possible As a district, we have followed DHHS guidance throughout this school year. It has served us well, as we have seen no evidence of transmission in our schools. Given that transmission of COVID-19 is unlikely in outdoor settings, we are comfortable adopting this change in our schools. Effective immediately, we will allow students and staff to enjoy outdoor activities without masks. Please note that the guidance does continue to recommend distancing between students. The NH DHHS definition of a close contact to someone with COVID-19 is anyone who is closer than 6 feet for longer than 10 minutes to a positive case. Please encourage students to keep their distance from one another and if there are close encounters, limit them to fewer than 10 minutes. Thank you all for your continued support of our students, Lisa Miller, BSN, RN, SAU #36 COVID-19 Coordinator Marion Anastasia, Superintendent


The White Mountains Regional School District uses our collective resources to educate responsible and ethical citizens who are academically, socially, and physically prepared to meet the needs of our community in an ever-changing world.

Our School District is located in the beautiful White Mountains in northern New Hampshire. Our district includes three schools and one administrative office serving the communities of Carroll, Dalton, Jefferson, Lancaster, and Whitefield.