Progressive Styles Concert tonight (6/6/22)!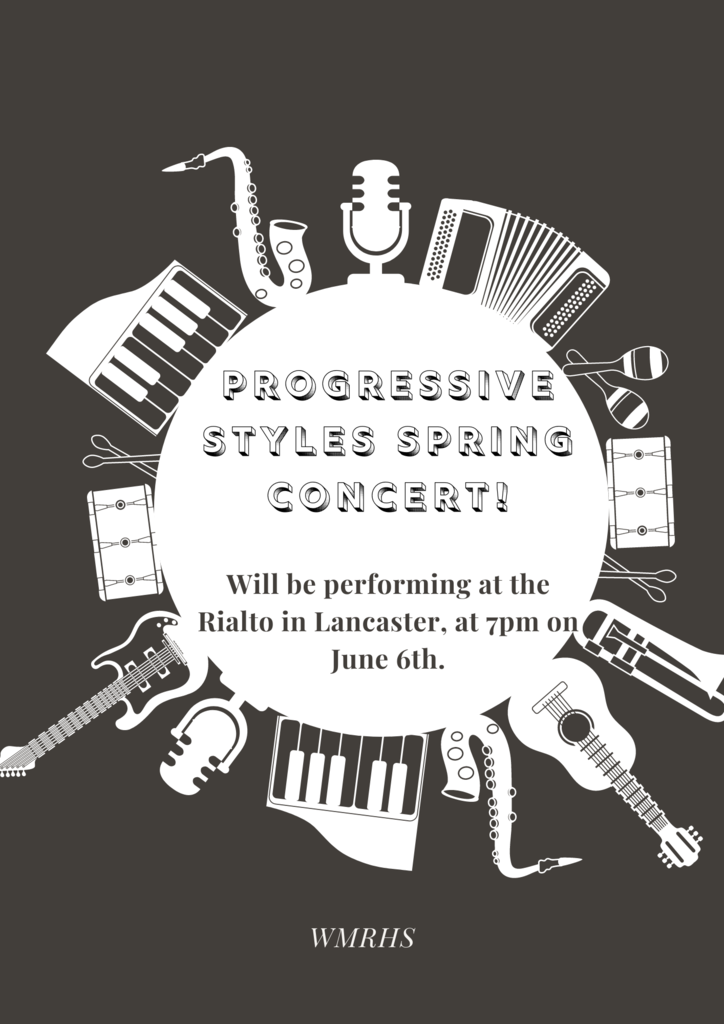 A message from WW Berry Good Afternoon, Please be prepared and aware of possible delays in this afternoon's student bus drop off times. The weather conditions are causing many road closures which have been changing frequently. We will be rerouting buses, as needed, to deliver your students home as quickly and safely as possible.

WMRSD is hosting a viewing of the movie, ANGST at the Rialto this Wednesday, April 13th @ 6PM.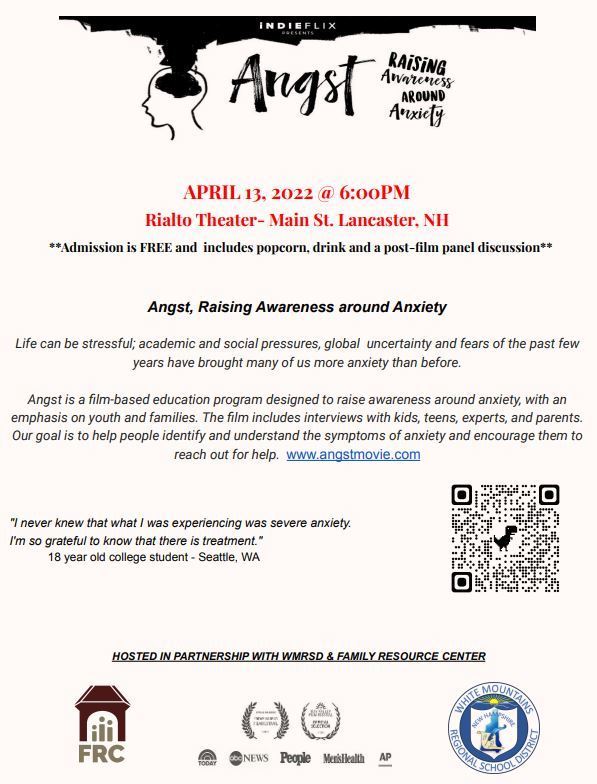 It is that time of year to start making plans for the summer! Summer programming is different this year as we are striving to include students who don't usually attend traditional summer school. This year, our summer learning programs (with the exception of preschool programming) will all be held at WMRHS. Our K-5 Summer Learning Camp program will be held from 8am-1pm on Tuesdays, Wednesdays, and Thursdays for four weeks from July 12 - August 4. Lunch will be provided as well as bus transportation from a central location in each of the five towns. We are looking forward to providing continued learning opportunities for our students in a fun, camp-like atmosphere this summer! Please see the link below for the sign-up form to be completed by April 22nd. Please note: More details about our 6-8 Spartan Summer Session program will be sent out next week, along with information about the Futures Camps. The 6-8 Spartan Summer Session will run the same days and times as the K-5 program. Sign up form:
https://docs.google.com/forms/d/e/1FAIpQLSeOmAkK2cap6l-PbSie_TcexL9EfqYVATQq0iSZYSejkbifAA/viewform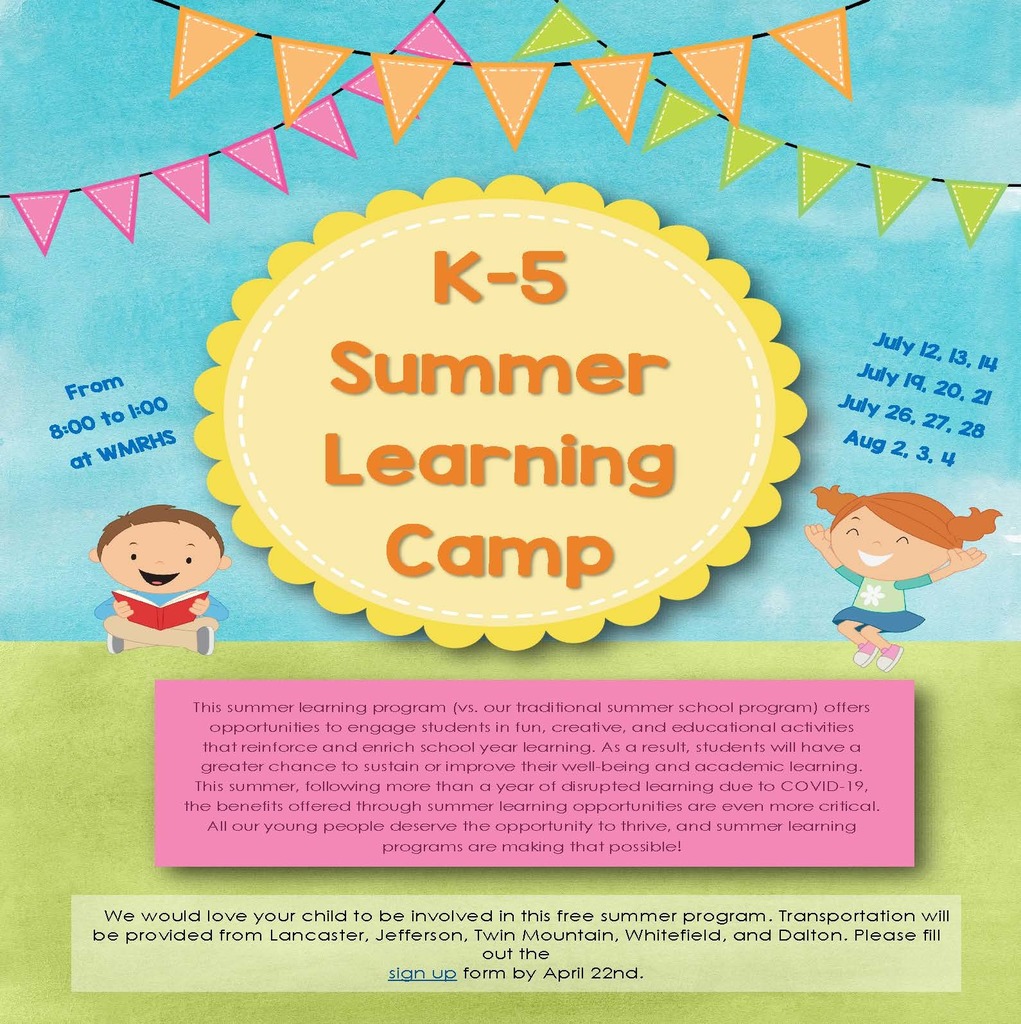 Good Morning White Mountains Regional School District Families and Staff. We will have a 2- hour delay this morning. School will start at 10:00 am.


SAU 36 is in search of two full-time paraprofessionals. Benefits include health insurance, enrollment into New Hampshire Retirement System, life insurance, and long-term disability. Please find the job description attached. Please apply via SchoolSpring. Job Description -
https://5il.co/16y0z
Apply Here -
https://www.schoolspring.com/job.cfm?jid=3442124

Good Afternoon White Mountains Regional School District Families and Staff. Given the weather forecast for tomorrow, we are cancelling school and all after school activities for tomorrow as well.

UPDATED MASK RECOMMENDATIONS EFFECTIVE IMMEDIATELY Good Evening, NH DHHS has updated their face mask recommendations and are no longer recommending face masks for people in indoor public spaces and that includes in schools. Effective immediately, face masks will be optional for our general school population. Please note that masks are required per Federal mandate on any public transportation and that does include school buses. If your child rides a bus, please continue to have them mask while on the bus. Masks are still required for those returning to school after a 5 day isolation or quarantine period. People who are severely immunocompromised should still consider wearing a face mask. Anyone who wants additional protection for themselves or others in their home are encouraged to mask while in school. COVID-19 is still in our community and we will continue to mitigate the risk with adequate ventilation, hygiene measures, cohorting, testing and will continue to isolate positive cases and quarantine those who have had household exposures. If you have any questions about this change in procedure please reach out to your building administrator. I have attached the Technical Advisory from the NH DOE sent to all NH Superintendent's this evening for your information. Best, Marion NH DOE Technical Advisory -
https://5il.co/16605

Covid-19 shots and boosters available at Vaccine Clinic. February 18, 2022 4PM-7PM - Lancaster Town Hall. Free to the Community. See attached .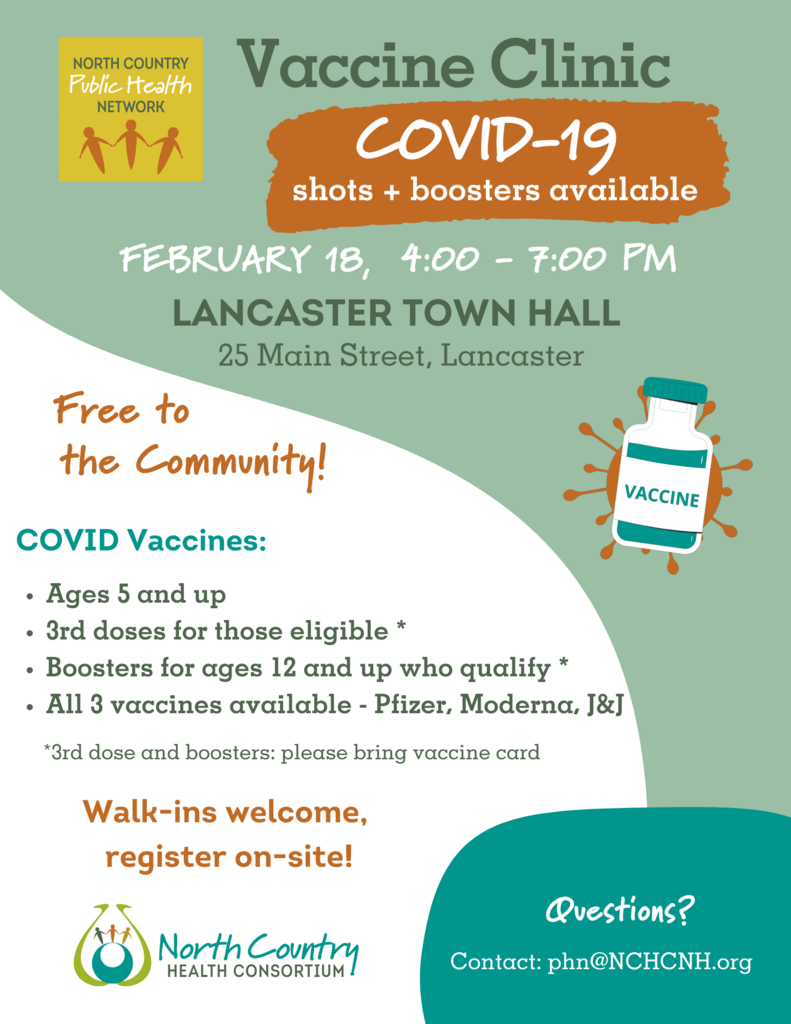 Good Afternoon White Mountains Regional School District Families and Staff. Given the weather forecast for tomorrow, we are cancelling school and all after school activities

Good Morning White Mountains Regional School District Families and Staff. All after school activities are cancelled today.

Dear WMRSD Staff and Families, Attached you will find information about the Warrant Articles that will be presented at the Deliberative Session on Monday, February 7, 2022 at the WMRSD auditorium at 6:30 PM. We hope this information is helpful in understanding each Article! See you Monday night! Best, Marion Deliberative Session Information -
https://5il.co/1541q

The Family Resource Center Supports.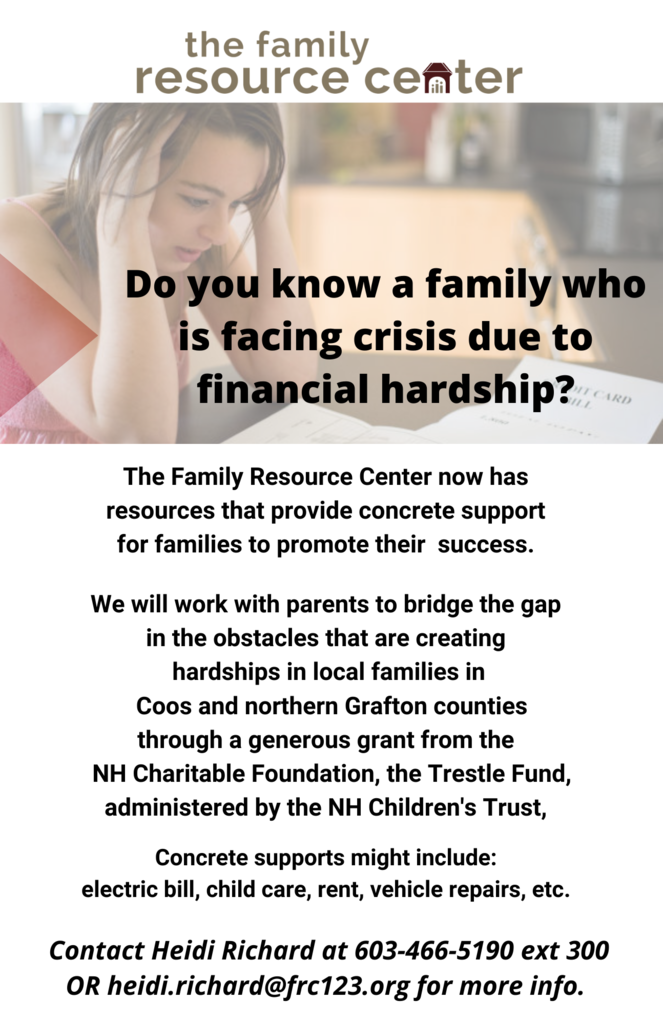 Good Afternoon WMRSD Staff and Families, There has been a great deal of media attention these last few days surrounding the new guidelines released from the CDC addressing shorter isolation and quarantine times. As a result, I've had a fair number of people reach out to ask if we're now following that guidance. Since the start of the pandemic, we have been following guidance from NH DHHS. We intend to continue to follow the lead of our State Epidemiologists. They are currently looking at the new CDC guidance and are figuring out how to apply it to schools and other congregate settings. For the time being, they have advised us to continue with the guidance that is in place. You can find isolation and quarantine guidance at the following link:
https://www.covid19.nh.gov/
If you are a staff member and you have tested positive for COVID-19 or are living in a household with someone who has tested positive over the break, please reach out to me or to your school nurse via email. If you have a child who has tested positive for COVID-19 or someone in your child's household has tested positive over the break, please reach out to your school nurse for guidance. Anyone who has symptoms of COVID-19 should seek testing prior to entering our buildings on Monday morning. We do have the ability to test at the school. We ask that you arrange a testing time with the school nurse. Thank you so much for your cooperation and your willingness to keep our students safe. We wish you a happy and healthy 2022! Lisa Miller WES Nurse 603.837.3088
lmiller@sau36.org
Trish Belanger LES Nurse 603.788.4924
pbelanger@sau36.org
Amanda Cormier WMRHS Nurse 603.837.2528
acormier@sau36.org

Vaccine clinic Saturday, December 4th at WMRHS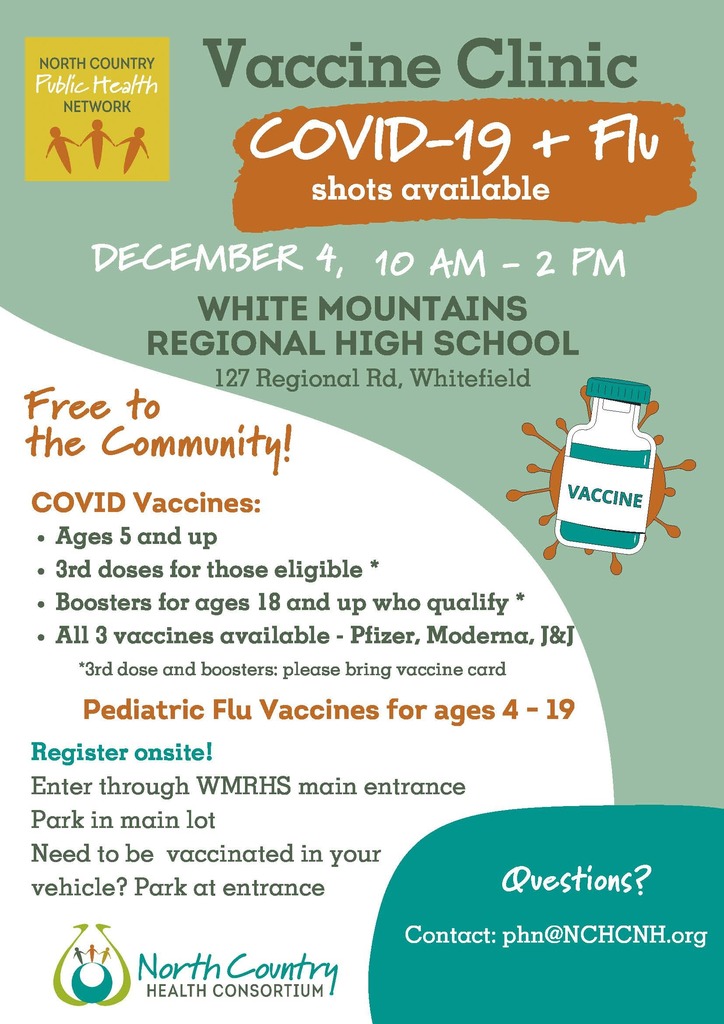 WMRHS Alumni Association Meeting tomorrow, Wednesday, December 1st at 7pm at the Weeks Memorial Library in Lancaster!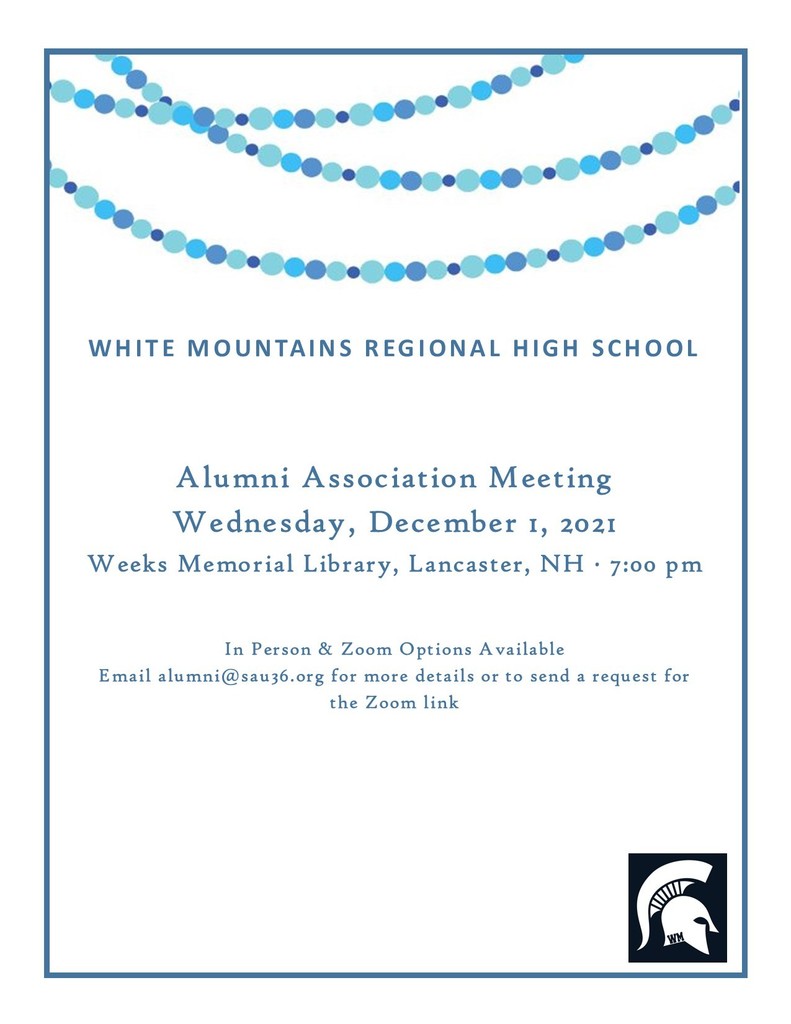 Dear WMRSD Staff and Families, The District Leadership Team has been working on crafting an outline for updating our Strategic Plan. We have identified 4 'pillars' to guide our work. They are: 1.Structure and Finance ( Finance and Operations) Making the best use of current and future resources, WMRSD will optimize the District's structures and resources so that it supports the provisions of a quality and equitable education and improved facilities. 2.District Culture and Wellness Foster a culture that promotes engagement, inclusion, safety, health, and success for all students, staff, parents, and community members. 3.Teaching and Learning (Student Engagement/Achievement & Professional Learning) Implement a balanced, innovative curriculum that emphasizes a culture of engaged learning and prepares all students for lifelong success. Foster a culture of learning for all staff that enforces and models lifelong learning through professional development opportunities. 4.Innovation Strategy Provide venues to vet and/or implement future improvement and change through innovative processes. Conviction in the importance of the work Clarity on the vision Capacity to implement the ideas Coalition of broad and diverse stakeholders Culture of innovation and equity As we move forward to implement this plan, we will craft year-long action steps for each pillar, and then action steps for each school. We invite you to provide input and feedback for this process. Our first community/staff meeting will be on December 8, 2021, at 5:30 PM at the WMRHS media center. The initial meeting should take about an hour or an hour and a half. We will have a casual round table discussion format. I will post this on the website and social media as well. Please email me at
manastasia@sau36.org
to RSVP so that we prepare the space appropriately. We look forward to this work ahead! Best, Marion

Free vaccine clinic at WMRHS gym tomorrow!


REMINDER - VOTING TONIGHT 5:30PM WMRHS AUDITORIUM Dear WMRSD Families, Staff, and Community, I have attached a link that explains the information for the use of unanticipated adequacy aid for the November 10, 2021, Special Meeting vote. This presentation was given at the October 14, 2021, Special Budget Hearing. Unfortunately, there were very few community members present to hear the information. We feel that it is important for you to know the board's recommendation for the use of the funds as well as to inform you of the tax impact. The attached slides explain why we had an increase in adequacy aid and the process the school board must follow according to RSA 197:3-a to appropriate the funds or reduce tax rates. Please take a moment to view the slides – Click here. Voting is on November 10, 2021, preceding the regular School Board meeting at 5:30 PM in the WMRHS auditorium. Feel free to contact me if you have any questions. Thank you! Marion Anastasia, WMRSD Superintendent
https://core-docs.s3.amazonaws.com/documents/asset/uploaded_file/1619566/October_14__2021__Special_Budget_Hearing.pdf